Description
The Celebrity XL Deluxe scooter effortlessly stands out with confidence. Taking the Celebrity line to new heights, it presents a refined and sophisticated scooter design that exceeds expectations.
Experience the deluxe features of this exceptional scooter. The Celebrity XL Deluxe is equipped with an independent console angle adjustment, allowing you to personalise your viewing experience. The deluxe high-back reclining captain's seat ensures optimal comfort during your journeys. With a full directional light package and convenient one-handed tiller angle adjustment, this scooter sets the standard for outdoor scooters in its class.
With a weight capacity of 159 kg, the Celebrity XL Deluxe offers a robust and reliable transportation solution. Its impressive turning radius of 168.2 cm enables effortless maneuverability in tight spaces, providing convenience wherever you go. Reach a maximum speed of up to 10 km/h and enjoy an impressive range of up to 40.2 km per charge, granting you the freedom to explore your surroundings.
The front frame-mounted seat post enhances stability and ensures a secure and comfortable ride. For your convenience, a restyled lightweight front basket is included, providing ample storage space. The scooter also features easily accessible securement points, allowing for simple transport of an unoccupied scooter.
Safety is a top priority, and the Celebrity XL Deluxe delivers with high visibility reflectors, ensuring you remain visible even in low-light conditions. Its microprocessor-based controller optimises power management, maximising performance and efficiency. The ultra-simple, auto-latching frame lockup enables quick disassembly and assembly, offering convenience when storing or transporting the scooter. Illuminate your path with the standard angle-adjustable dual bulb lower headlight, providing optimal pathway illumination.
The independent angle-adjustable console allows you to find the perfect position for easy access and operation. Adjusting the tiller angle is effortless with the one-handed operational squeeze lever and auto-locking mechanism. Experience enhanced visibility and safety with the full directional lighting package, including front and rear turn signal indicators. The scooter is equipped with two rearview mirrors as standard, providing you with a clear view of your surroundings.
Features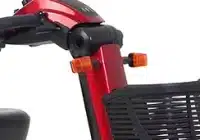 Full directional lighting package