Description
The Pathrider 10 Deluxe scooter is a mobility solution that combines smooth performance with innovative features. This deluxe model is designed to enhance functionality and style, offering advanced standard features for an elevated mobility experience. With a weight capacity of 159 kg, the Pathrider 10 Deluxe provides reliable support and durability, accommodating a wide range of users. Its 157.5 cm turning radius ensures excellent maneuverability, allowing users to confidently navigate through tight spaces. The scooter's maximum speed of up to 8.5 km/h strikes a balance between efficiency and versatility. Enjoy extended journeys without frequent recharging, thanks to its per charge range of up to 25 km, providing freedom to explore the surroundings.
The Pathrider 10 Deluxe stands out with its exclusive one-hand feather touch disassembly system, providing ultimate convenience for quick transport and storage. The wraparound easy-drive tiller, equipped with an easy-grip tiller adjustment knob, offers comfortable and ergonomic control, ensuring effortless maneuvering and a smooth riding experience. Stay informed about the battery level through the back-lit battery gauge, ensuring users are always aware of the remaining power. The front and rear suspension system adds to the comfort by absorbing bumps and vibrations, resulting in a pleasant ride.
The lightweight pinchless hinge seat with eight-position rotation, sliders, and viscoelastic foam inserts provides increased comfort and customisable seating options. Users can find their perfect seating position, enjoying optimal support and relaxation throughout their journey. The Pathrider 10 Deluxe also includes additional features such as a standard rearview mirror for enhanced safety and an auto-connecting front-to-rear harness for easy setup and disassembly, adding convenience to its use. With its exceptional performance and advanced features, the Pathrider 10 Deluxe scooter offers great value. Experience the freedom and convenience this deluxe model provides.
Features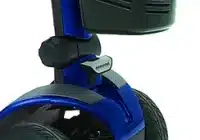 Bright LED headlight