Description
The Quest Folding Scooter is a versatile and convenient mobility solution designed to accommodate those with an active lifestyle. This 4-wheel scooter offers the flexibility of easy transport and folding capability, making it an ideal choice for individuals on the move. It delivers exceptional performance both indoors and outdoors, with a maximum speed of 6 km/h and a range of up to 20 km per charge. Whether you're maneuvering through tight spaces or cruising along sidewalks, the Quest Folding Scooter ensures a comfortable and convenient ride.
One of the standout features of the Quest Folding Scooter is its space-saving design. It can be easily folded and stored inside cupboards or vehicle boots, thanks to its sleek and compact build. This allows for hassle-free storage and transportation, enabling you to bring it along wherever you need to go. For personalised comfort, the tiller is adjustable, allowing you to find the perfect driving position that suits your needs.
The scooter's unique folding design makes transport effortless, and it can be stored upright or laid down, depending on your preference and the available space. Stability is a key feature of the Quest Folding Scooter, thanks to its articulated front end that provides enhanced balance and support. You can confidently navigate various terrains, knowing that stability and safety have been prioritised.
Front and rear LED lighting ensure visibility and safety during your journeys, even in low-light conditions. The Quest Folding Scooter offers versatility, compactness, and ease of operation, making it an excellent choice for those seeking a convenient and reliable mobility solution.
Features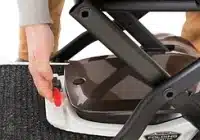 Easy-fold design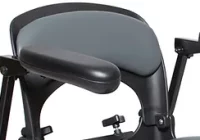 Seat armrests included