Description
The Sportrider is a three-wheel scooter inspired by motorcycle design, catering to outdoor enthusiasts seeking a sporty and exhilarating ride. Combining style, performance, and functionality, this scooter offers a unique experience. The full digital display of the Sportrider keeps you informed with its speedometer and odometer, allowing you to accurately track your journey. It puts all the essential information right at your fingertips, ensuring you stay in control.
For a smooth and comfortable ride, the Sportrider is equipped with a full suspension system. This innovative feature absorbs shocks and bumps, providing stability and enjoyment even on uneven terrains. Experience the difference as you effortlessly glide through your surroundings. The adjustable high-back seat of the Sportrider offers optimal comfort and support. You can customise your seating position to suit your preferences, ensuring a relaxed and ergonomic ride. Whether you're embarking on a short trip or an extended adventure, the Sportrider ensures a comfortable journey every time.
Illuminate your path with the powerful front and rear lighting kit of the Sportrider. This enhances visibility and safety, particularly during low-light conditions, allowing you to explore the outdoors with confidence. The Sportrider's impressive lighting system ensures that you can be seen and stay safe.
Carrying your belongings is made easy with the large storage pod of the Sportrider. This convenient feature enables you to bring along essentials and personal items, keeping everything within reach. With a turning radius of 157.3 cm, the Sportrider offers excellent maneuverability, allowing you to navigate through tight spaces and make sharp turns effortlessly. Experience freedom and agility as you ride this exceptional scooter. With a maximum speed of up to 10 km/h and a range of up to 50 km per charge, the Sportrider provides both power and performance.
Features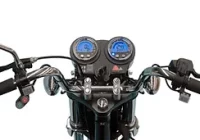 Full digital display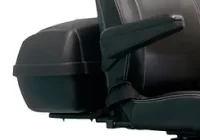 Rear storage pod