Description
The Cura 6 Channel Cordless Falls Monitor redefines ease of use by removing the necessity for cumbersome cords between the monitor and pads. It possesses the capacity to oversee a maximum of six cordless pads, mats, or similar triggering devices, in addition to one corded (Premium) device. Characterized by a contemporary ergonomic design, this monitor ensures simplicity in operation and arrives complete with batteries, a robust ABS plastic casing, and a caregiver reset key.
With the capability to simultaneously supervise seven devices, encompassing a single Premium pad/mat and up to six wireless devices, this monitor stands out. Its repertoire includes an alarm memory and auto-rearm function, accompanied by an amber LED visual alarm indicator, a caregiver-secure reset alternative, and the choice of battery operation or an optional external plug pack.
Endowed with a battery life that can extend up to six months (nominal), this monitor's battery compartment is easily accessible. It can be seamlessly linked to a nurse call system, promptly notifying caregivers in cases of lost nurse call connection, disrupted AC power supply, or low battery levels. Notably, the monitor incorporates a "pause" feature, allowing caregivers to tend to patients without triggering alarms. To cater to individual preferences, it offers a selection of three alarm tones and straightforward thumbwheel-adjustable alarm volume settings.
Features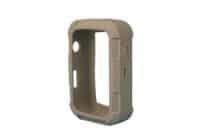 Soft-Touch Removable Protection Case (included)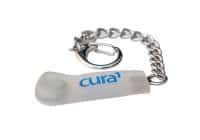 Magnetic Caregiver Key (included)