Description
The Cura1 Economy Falls Monitor is a user-friendly solution engineered for fall prevention. Seamlessly compatible with all Economy Bed/Chair Pads and Floor Mats, it seamlessly integrates into your patient care toolkit, offering versatility. This monitor boasts uncomplicated operation and maintenance, underscored by its auto-rearm function post-alarm activation. An intuitive red LED visual alarm indicator further enhances its user-friendliness.
Power options include either 3 x AAA batteries or an optional 6 V external plug pack, allowing for flexibility. With three selectable alarm tones, the monitor caters to individual preferences. Its capabilities extend to nurse call system connectivity, complete with adjustable alarm volume, a front panel reset/self-test button, and a range of selectable delay options (0 sec/1 sec/2 sec).
Furthermore, the monitor's thoughtful design incorporates an audible "Low Battery" alarm and a blue LED visual warning, bolstering convenience. To streamline installation, the monitor arrives complete with a mounting strap. The Cura1 Economy Falls Monitor stands as a reliable and accessible addition to your care framework.
Features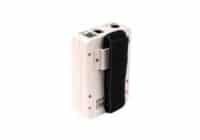 Mounting Strap (included)