Description
This Peak Transfer Bath Bench with Back makes it easy and safe for transferring to and from the bath and can be used on either the left or right-hand side.
The backrest is removable and there are optional suction legs for improved stability and slip resistance. The frame of this bath bench is made out of aluminium and the legs are height adjustable. The seat and back are made of durable plastic. The seat has a moulded section for the storage of soap.
Extensions legs are available in the following sizes.  Please contact customer service to place your order if you require extension legs.
Code: B426AA-A-FX  Size: 190mm
Code: B426AC-A-FX Size: 268mm
Code: B426AD-A-FX Size: 280mm
Features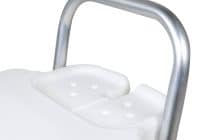 Moulded soap dish for easy storage