Description
The BetterLiving Portable Sensor Light is a battery-operated, pocket-sized device that provides convenient lighting solutions for your home or while traveling. This compact light serves as both a night light and a motion-activated sensor light, offering versatility and flexibility.
By setting the light to the ON position, you can use it as a permanent light source in any area of your home. It works well as a stationary light for various purposes or can be used as a portable torch when you need to move from room to room.
Alternatively, you can set the light to the AUTO position, enabling it to function as a motion sensor light. When placed in a dark environment, the light will automatically turn on upon detecting movement within a 6-meter radius. With a wide 90° angle of detection, you can conveniently place it on any flat surface or mount it on a wall using the included mounting kit.
The light incorporates the latest technology with 9 white ultra-bright LED lights that consume low energy. These long-lasting LED bulbs eliminate the need for replacements. You have the option to power the light with 4 AA batteries (included) for portability or plug it into a mains power outlet for continuous operation.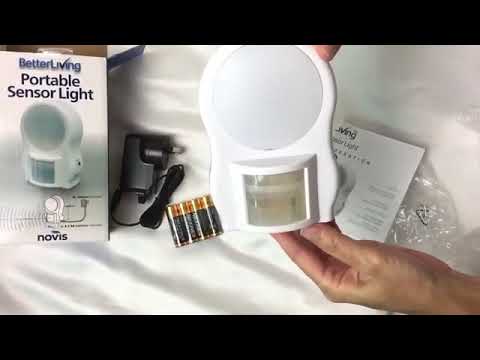 Features