Description
The Celebrity DX is a remarkable mobility scooter available in both three and four-wheel configurations, designed to provide exceptional performance and user-friendly design. Its sleek and sporty styling combines with its impressive features to offer an elegant and enjoyable experience.
Built to cater to your needs, the Celebrity DX comes equipped with a range of standard features. The deluxe seat offers a headrest and manual recline function, ensuring maximum comfort during your rides. Safety and visibility are enhanced by the lower light that illuminates the pathway. With a weight capacity of 159 kg, the Celebrity DX provides a reliable and sturdy platform for users of various sizes.
Maneuvering is effortless with its tight turning radius of 105.4 cm (3-wheel) or 149.8 cm (4-wheel), allowing you to navigate through tight spaces with ease. Experience a thrilling speed of up to 9.65 km and enjoy longer journeys with a range of up to 20.6 km per charge, giving you the freedom to explore your surroundings without worry.
The state-of-the-art rear suspension ensures a smooth and comfortable ride, absorbing bumps and uneven surfaces for enhanced stability. When it comes to transport, the Celebrity DX offers ultra-simple, auto-latching lockup, allowing for quick disassembly and assembly, making storage and transportation in your vehicle a breeze.
Safety is a top priority, and the Celebrity DX provides peace of mind. Easily accessible tie-down points secure the scooter during transportation when unoccupied. The inclusion of a front basket and rearview mirror as standard equipment adds convenience and practicality to your journeys. High visibility reflectors further enhance your visibility, ensuring safety in various lighting conditions.
With its microprocessor-based controller, the Celebrity DX offers precise control and responsiveness, delivering a smooth and enjoyable driving experience. The tiller rotation lock allows the tiller to be used as a handle during transport, adding convenience to your mobility. For added safety during turns, the four-wheel configuration includes speed reduction technology, automatically reducing the travel speed while turning corners.
Choose between the three or four-wheel configuration.
Features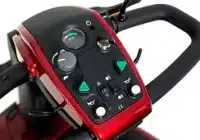 Premium console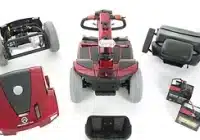 Ultra-simple disassembly