Description
The Go Go Ultra X is a practical mobility scooter designed to accommodate active lifestyles. This scooter offers a range of convenient features that make transportation and usability a breeze. With its feather-touch disassembly and drop-in battery box, the Go Go Ultra X ensures effortless transport and convenience. Supporting a weight capacity of 117 kg, it caters to a wide range of users. Its robust construction and high-quality components guarantee reliable performance and durability, fulfilling all your mobility requirements. Enjoy the freedom to move at a maximum speed of up to 6.4 km/h, providing a smooth and comfortable ride for running errands, exploring your surroundings, or engaging in outdoor activities.
The Go Go Ultra X is available in both three and four-wheel configurations, allowing you to choose the option that best suits your preferences and needs. Regardless of your choice, both configurations offer stability and maneuverability, ensuring a safe and enjoyable mobility experience. Convenience is prioritised with the Go Go Ultra X. Its feather-touch disassembly feature allows for easy breakdown into lightweight and manageable pieces, making it effortless to transport and store in your car, home, or any other space. The drop-in battery box further enhances convenience by enabling quick and hassle-free battery replacement. Battery swaps are a breeze, requiring no complex tools or extensive technical knowledge, ensuring uninterrupted mobility. Discover the versatility and convenience of the Go Go Ultra X. Embrace an active lifestyle and relish the freedom to travel and explore with this exceptional mobility scooter.
Choose between the three or four-wheel configuration that suits your specific needs and enjoy the benefits of a reliable and feature-packed mobility solution.
Features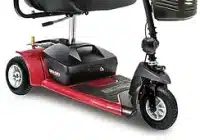 3-wheel configuration available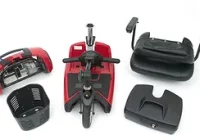 Feather-touch disassembly