Description
41cm x 41cm currently out of stock. Please contact us for expected delivery date.
The Karma Ergo Lite Deluxe Self-Propel Wheelchair uses Karma's S-Ergo patented seating system which promotes pressure relief whilst preventing the user from slipping off the seat. As with all Karma wheelchairs, the chair fabric features an Aegis microbe shield to reduce stains and odours.
Easy to transport and store the Karma Ergo Lite Deluxe Self-Propel Wheelchair features a folding backrest, removable leg rests and maximum weight of 10.2kg and will fit in most standard car boots.
The seating pose is adjustable allowing for a stable posture and the structure of the chair features a cross brace for additional strength.
Double cross brace provide strength and durability.
Available also is the Karma Wheelchair Travel Bag.
Sizes Available:
41cm x 41cm (16″ x 16″) measured between the armrests
46cm x 41cm (18″ x 16″) measured between the armrests
Visit our blog page to find out which Karma Wheelchairs are crash tested to ISO 7176-19
Features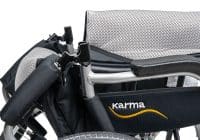 Backrest folds completely for compact storage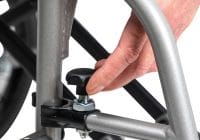 Swingaway and removable leg rests