Description
The Gopher™ SV 4-wheel scooter is a stylish and high-performance personal mobility solution that enhances your mobility experience. With its sleek design, this scooter not only offers a modern and attractive appearance but also prioritises your safety with ultimate visibility.
Equipped with a premium lighting package, including front, rear, and directional signals, the Gopher SV ensures optimal visibility for confident navigation. Whether you're zooming through city streets or enjoying a leisurely ride in your neighborhood, rely on the Gopher SV to take you where you need to go.
This feature-rich scooter offers impressive specifications to meet your mobility needs. With a weight capacity of 160 kg, it provides a sturdy and reliable transportation option. The scooter's tight turning radius of 143 cm allows for easy maneuverability in confined spaces, while its maximum speed of up to 10 km/h ensures efficient travel. With a range of up to 30 km per charge, you can enjoy extended journeys without worrying about battery life.
Experience a smooth and comfortable ride with the Gopher SV's state-of-the-art front and rear suspension. This advanced suspension system effectively absorbs shocks and bumps, ensuring a pleasant experience across various terrains. The full LED lighting package enhances visibility, allowing you to see clearly and be seen by others, promoting safety during your travels.
The Gopher SV prioritises your comfort with its limited recline, black vinyl, high back seat. It features a pillow-top headrest and flip-up height and angle-adjustable armrests, allowing for personalised comfort.
The user-friendly console conveniently displays battery levels, speed adjustment, and light options, keeping you informed and in control. Additionally, the scooter comes with standard features such as a front basket, seat pockets, and a rearview mirror, providing practical storage options and added convenience. The easy-drive hydraulic tiller with wrap-around handles allows effortless adjustment to suit your needs, ensuring a comfortable driving position.
Features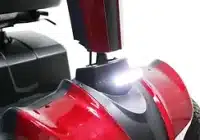 Bright LED front light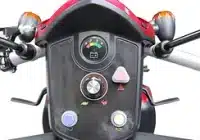 Premium console