Description
The TA iQ Mid Wheel Drive Power Wheelchair was developed and manufactured in Denmark by TA Service and extensively tested and certified in Germany. Founded by Torben Andersen in 1988, TA Service have over 20 years experience in power wheelchair design, manufacture and service. Over the years, TA Service performed extensive research focusing on the specific requirements of users and funders to develop a new power chair solution.
The TA iQ MWD is a power chair for everyday use, with greater access and functionality both outdoors and indoors. With the large drive wheels that are positioned in the middle of the chair giving a tighter minimum turning radius of only 45cm, the TA iQ can spin and manoeuvre in tighter spaces. This ensures that the user has better access and may reduce the need for some costly housing modifications. A very low minimum seat plate height of only 38cm allows the TA iQ MWD to fit under tables, desks and allows visibility when driving from the chair in a vehicle. A 30cm lift (to 68cm) allows improved communication as well as making it easier to reach storage in kitchens, bathrooms and other areas. Conscious of costs and government funded budgets, the TA iQ was designed to reduce the need for further customisation by being highly specified. 
All components are modular for easier servicing and refurbishment. The TA iQ electric wheelchair is a European styled solution with the smooth lines of understated Scandinavian design. The TA iQ offers performance to go with its looks. The max speed is 10km, taking only 3 seconds to reach, and has a theoretical range of 40km. A 45° tilt, combined with an electric backrest, provides superior pressure relief. The TA iQ will fit any seating system specified, width 30-60cm, depth 30-55cm. The backrest is also easily adjustable and is designed to take any back cushion specified.
View the TA iQ seat adjustment feature here
Specifications
Width without Seat: 63cm
Length without Legrests: 90cm
Minimum Height from Floor to Seat Base: 38cm
Minimum turning Radius: 45cm
Electric lift height (minimum – maximum): 30cm (38 – 68cm)
Electric tilt: 45°
Motors: 4 Pole
Maximum user weight: 140kg
Maximum speed: 10 km/h
Maximum range (optimum): 40km
Please call 1300 137 875 for more details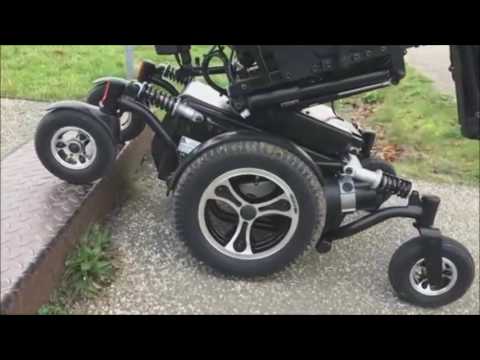 Due to the complex nature of this product, we have trained professionals who can provide assistance to ensure this equipment supports your needs.
Please get in touch with us and we will put you in direct contact with a product specialist in your area.