Description
The Pride Outback™ is the ultimate outdoor scooter designed for rugged terrains and exceptional performance. This aggressive scooter is built for adventure, whether you're exploring walking trails or your own property. With robust features and powerful capabilities, the Outback is your gateway to embracing the great outdoors.
Enjoy a smooth and comfortable ride with the front and rear suspension system, which absorbs shocks and bumps for stability even on uneven surfaces. Conquer any terrain with confidence, as the Outback is built to handle the elements. Stay visible and safe with the full LED lighting package, including headlights, hazard lights, rear backup sensor LED lights, and directional signals. Even in low-light conditions, you'll have enhanced visibility and peace of mind. Safety is a priority, and the dual hydraulic brakes provide reliable and responsive stopping power.
The user-friendly LED console keeps you informed with essential information such as time, temperature, kilometers driven, and trips taken. Stay connected on your adventures with the convenient USB charger built into the tiller, allowing you to charge your smart phones and portable devices on the go. Customise your driving experience with the adjustable delta tiller and ergonomic wraparound handles, finding the perfect position for comfort and control. The Outback caters to your needs with features like a limited recline, black vinyl, high-back seat with lumbar and pillow-top headrest, flip-up height, and angle-adjustable armrests for ultimate comfort. Bring your essentials along in the storage compartment, and enjoy the added protection and style of the durable rear bumper.
Features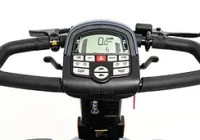 User-friendly LED console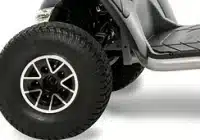 Rugged all-terrain tyres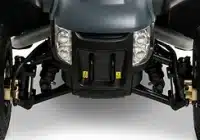 Dual hydraulic brakes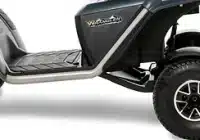 Superior ground clearance