Description
The Pathrider 130 XL is a scooter that offers versatility and is specifically designed to tackle challenging outdoor terrains with power, style, and performance. Its 24 Volt, 4-pole motor ensures increased power for an exhilarating experience, perfect for individuals with an active lifestyle. This scooter comes equipped with a range of standard features that enhance convenience and comfort. The feather touch disassembly allows for easy transport and storage, providing flexibility for users. The wraparound delta tiller offers comfortable and ergonomic control, ensuring a pleasant and effortless driving experience. The 33 cm pneumatic tires provide excellent traction and stability on various surfaces, while the front and rear suspension systems ensure a smooth and enjoyable ride.
With a weight capacity of 158.7 kg, the Pathrider 130 XL accommodates a wide range of users, providing reliable support and durability. Its 167.6 cm turning radius enables easy maneuverability, making it suitable for navigating tight spaces with ease. The scooter's per charge range of up to 24.9 km allows for extended journeys without the need for frequent recharging, granting users the freedom to explore their surroundings without limitations.
The large 33 cm pneumatic tyres are specifically designed for outstanding outdoor performance, offering a comfortable and controlled ride even on uneven terrain. The full lighting package, including directional signals and an angle-adjustable dual bulb lower LED headlight, enhances visibility and safety in any lighting condition. The seat post suspension absorbs shocks and vibrations, providing a smoother and more comfortable ride. The easy-drive tiller with wraparound handles ensures effortless maneuvering and precise control, allowing users to navigate with confidence. Transporting the scooter is made convenient with easily accessible tie-down points designed for securing the scooter during transport when unoccupied. Additionally, a rearview mirror comes standard, enhancing visibility and safety during rides.
Available in two colours to choose from: Candy Apple Red, Mercury Silver
Features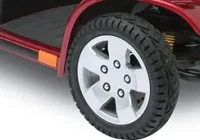 Large pneumatic tyres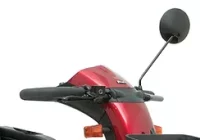 Rearview mirror (standard)