Description
The Pathrider 140 XL is an outstanding outdoor scooter that offers a combination of power, precision, and luxurious comfort. It is designed to elevate your mobility experience with advanced features and high-quality components. The robust 24-volt DC motor at the core of the Pathrider 140 XL enables an impressive maximum speed of up to 10 km/h. Whether you're leisurely cruising along scenic paths or completing errands in your neighborhood, this scooter provides the power you need for confident and efficient navigation.
The Pathrider 140 XL is designed for optimal handling and a smooth ride, thanks to its full suspension system. This innovative feature absorbs shocks and vibrations, ensuring a comfortable journey even on uneven terrain. The large 33 cm pneumatic tyres effortlessly glide over bumps, delivering excellent outdoor performance and stability. Safety is prioritised with the hydraulic-sealed brake system, providing reliable stopping power and instilling peace of mind during your adventures. The full lighting package, including directional signals and a bright headlight, enhances visibility and ensures you are visible in any lighting conditions.
The Pathrider 140 XL offers ease of use with its infinite adjustable wraparound easy-drive tiller, allowing you to customise the steering position for maximum comfort and control. Paired with the high-back pillow-top seat, your journey becomes a luxurious experience, providing superior support and comfort for longer rides. With a weight capacity of 181 kg, the Pathrider 140 XL accommodates a wide range of users, offering accessibility and freedom to individuals with varying mobility needs. The impressive 210.8 cm turning radius ensures maneuverability in tight spaces, allowing you to effortlessly navigate through crowded areas.
Transporting the scooter is convenient with easily accessible tie-down points designed for securing unoccupied scooters during transportation. The standard rearview mirror and front shield add to the convenience and safety features. The sleek and stylish design ensures you'll make a statement wherever you go. Experience the power of mobility with the Pathrider 140 XL. Whether you're exploring nature trails or enjoying outdoor activities, this exceptional scooter combines power, precision, and luxury to provide an unparalleled riding experience. Take control of your mobility and embrace the possibilities with the Pathrider 140 XL.
Available in three colours: Candy Apple Red, Yellow, Silver.
Features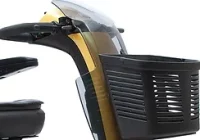 Front shield (standard)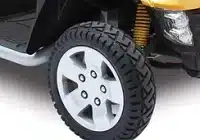 Large pneumatic tyres