Description
The Bullsone Balance Seat is designed to provide a comfortable, ergonomic sitting position for a prolonged period of time and to absorb vibration.  Its core feature is a worldwide patented multi-layer honeycomb structure constructed with a material known as Vetagel.  Vetagel is a 99.9% antibacterial high elasticity special polymer combined with the skin irritation-free safe oil which is used in cosmetics.
The double layer honeycomb structure features hexagonal pillars to pump air whilst the subtly re-balancing whilst seated on the balance seat cushion. This allows pressure to be dispersed whilst seated for prolonged periods.
The elastic restoring properties of Veta-Gel disperses pressure forced by weight and absorbs external impact.
Please make your selection when ordering by using the drop down menu above.
Features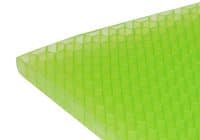 Vetagel disperses pressure forced by weight and absorbs external impact