Description
The Roho Mosaic Cushion is designed to be a functional, comfortable and stable sitting environment which will aid in the prevention of skin breakdown. The cushion has interconnected air cells which can be inflated and adjusted to suit the individual user.  Cushion weight is approximately 2kg.
The Roho Mosaic Cushion is great for a lounge chair, wheelchair or as a shower cushion. This cushion is suitable for those who sit for shorter periods of time and are at risk of pressure ulcers but currently do not have any or have only lesser stage pressure ulcers. This is due to the cushion being made of DEHP-free polyvinylchloride and having larger and fewer air cells.
If the user sits for extended periods of time such as all day in a wheelchair or has more advanced pressure sores, the single or dual compartment or Quadtro cushion is recommended. These more advanced cushions have smaller and more air cells to provide more shift in the cells while sitting and hence greater protection and are made of neoprene.
The Roho Mosaic Cushion comes with a hand pump, instructions and cover.
The Cushion Cover is 2-way stretch fabric and comes as standard, however a heavy duty, waterproof cover is available for those who are incontinent.
For additional assistance, visit our Guide to Choosing a Roho Pressure Cushion
Features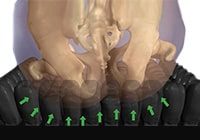 Matches your shape: Flexible cells provide constant and even forces across all contact areas with the body, while ensuring user remains safe, stable, and in the right position.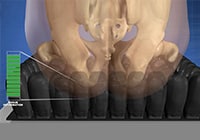 Lets you in: The unique design lets user sink into the cushion, reducing both pressure and discomfort to your skin and soft tissues.