Description
The Go-Go LX with Comfort-Trac Suspension (CTS), a mobility scooter that revolutionises comfort and performance standards. Equipped with innovative CTS technology, this scooter offers an unparalleled level of comfort by incorporating advanced suspension for superior absorption across various terrains. Designed to support a weight capacity of 136 kg, the Go-Go LX with CTS ensures ample stability and support. Experience extended journeys with a per charge range of up to 16.9 km and a maximum speed of 6.4 km/h.
Convenience takes center stage with the Go-Go LX with CTS. This scooter features feather-touch disassembly, allowing effortless breakdown into lightweight components for easy transport and storage. The wraparound delta tiller, complete with a charger port, provides ergonomic and comfortable control. With non-scuffing tyres, you can enjoy smooth and reliable operation without leaving marks on indoor surfaces. The LED headlight enhances visibility and safety during low-light conditions. Plus, the front basket offers a practical storage solution for your personal belongings.
Experience a new level of comfort and performance with the Go-Go LX with Comfort-Trac Suspension. This mobility scooter combines cutting-edge technology with convenience to provide an exceptional mobility experience.
Features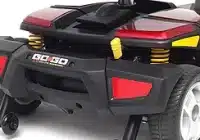 Smooth CTS Suspension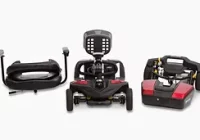 Feather-touch disassembly