Description
The Uccello Tipping Kettle was designed using innovative and unique PowerPour technology, which means the user can safely pour boiling water without removing the kettle from its cradle by just tilting the kettle.
Its ergonomic handle makes it comfortable for people with arthritis or hand injury.  The kettle features a wide spout and a large hinged lid to easily fill with water.  The water level indicator assists the user in ensuring it isn't overfilled. The base is non-slip and weighted.
The Kettle has a stainless steel heating element, power-on light and auto shut-off with overheating protection.
This product is available in Black & White or Red and White.
This product may be unsuitable for people with a certain physical impairment.
Features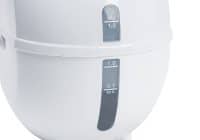 Water level indicator