Description
The Air Comfort Deluxe Bed V2 – Maxi is a device that aims to prevent pressure ulcers resulting from extended periods of sitting. It achieves this through a set of air-filled cushions that decrease pressure points on the user. This product is designed for elderly or infirm individuals in healthcare settings like hospitals or aged care facilities and requires the assistance of a caregiver or attendant.
The patented Airgonomic Seating System comprises four air cells that provide cushioning and immersion for the user. The chair also boasts various features like an electrically adjustable back recline, seat tilt, and raising legrest, as well as adjustable and drop-away armrests and back wings. The chair's construction incorporates VersoTela Fusion material, which provides pressure care and supports sensitive skin.
The chair is equipped with large castors, making it easily mobile, and it has a one-directional lock castor to aid with straight-line tracking. The chair is available in various colors and customisation options are also possible.
Features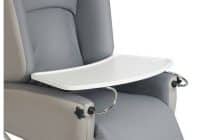 Meal Tray (sold separately) Product code: AO59007