Description
The Electric Air Comfort Deluxe Bed V2 boasts a unique Patented Airgonomic Seating System that utilizes four air cells to offer plush, immersive comfort. It is designed to cater to patients who have a height ranging from 1620mm to 1880mm.
Apart from its distinctive air cell technology, the bed also comes equipped with an electrically adjustable back recline, seat tilt, and raising legrest. The bed's armrests and back wings are adjustable and can be dropped away as per the patient's requirements. The VersoTela Fusion material used in the bed's design is specifically intended for pressure care and sensitive skin.
With its large castors, maneuvering the bed is a breeze, and it comes with a one-directional lock castor to aid with straight-line tracking. Additionally, customization and color options are available to cater to individual preferences.
Features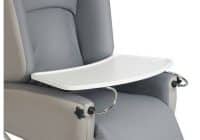 Meal Tray (sold separately) Product code: AO59036 (Small) Product code: AO59035 (Large)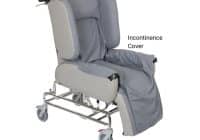 Incontinence Cover (sold separately) Product code: AO59013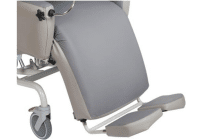 Footrest (sold separately) Product code: AO59055