Description
The Etac StarLock Air Cushion combines outstanding pressure redistribution qualities, high-level stability and close to unlimited positioning possibilities. These features can be challenging in air cell cushions; however, the StarLock features patented technology to lock the airflow between cells to suit the individual, thereby retaining positioning and stability. It can also be used as a one compartment cushion.
StarLock cushions provide the highest level of therapeutic prevention and treatment of pressure ulcers and are available in heights of 5, 10 and 13 cm. For users with high-pressure care needs, we recommend 13 cm cell height.
Included with the cushion: fitted cover, hand pump, repair kit, user manual.
For assistance with selecting the right cushion, download the Star Starlock Sizing Guide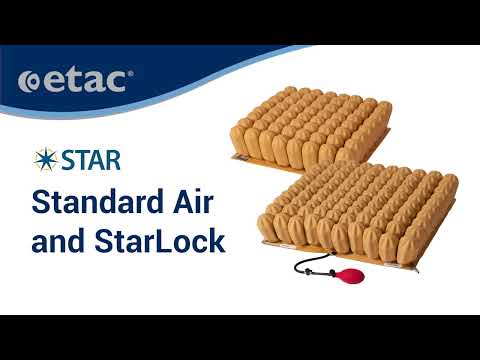 Features

Corrective stability: The StarLock air cell locking technology provides maximum stability and combines unique positioning possibilities with excellent pressure redistribution qualities.

Immersion and envelopment: The air cells allow the user to immerse into the cushion and obtain the best envelopment. The higher the cells, the more immersion.

Pressure redistribution: The Standard Air has excellent pressure redistribution properties. They adapt to the body structure and minimize the risk of tissue deformation. Perfect for prevention and care of pressure injuries.

Pressure free zones: To improve the sitting tolerance when severe pain is an issue, or off-loading is medically prescribed, StarLock technology can create a stable, pressure free zone, with just as good pressure redistribution around the zone.