Description
The Cura1 Standard Falls Monitor with SafeTime is an indispensable tool meticulously crafted for healthcare facilities. Its ergonomic design ensures effortless operation, seamlessly compatible with Premium and SafeTime pads. The innovative pause mode empowers caregivers to address patient needs without triggering alarms. Additionally, a tamper-proof reset option, employing a magnetic caregiver key, guarantees that alarm resets are solely managed by authorized personnel.
This falls monitor introduces a spectrum of customizable features, such as a choice of alarm tones and adjustable volume control, along with three alarm delay settings (0, 2s, and 15min). Its enhanced functionality includes a port facilitating nurse call system (NC/NO) connectivity. Operating on both batteries and an AC adaptor, the device remains vigilant with notifications for low battery and input loss. Moreover, it offers an indicator for timely SafeTime pad replacement.
Included in the package are essential accessories like a mounting bracket, hanger strap, soft cover, reset key, and batteries. And to provide an extra safeguard for your CUR2701 Monitor, a soft-touch removable protection case is also provided. This additional layer of defense shields the monitor from potential damage during use. Ultimately, the Cura1 Standard Falls Monitor with SafeTime stands as an invaluable asset to any healthcare establishment, steadfastly delivering reliable fall detection and prevention capabilities.
Features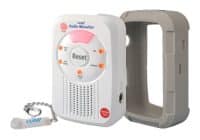 Soft-Touch Protection Case and Magnetic Caregiver Key (included)