Description
The Swift Mobil-2 Shower Commode is a versatile attendant-propelled chair designed to provide caregivers with optimal access during personal care tasks. This shower commode chair from Etac offers ease of maneuverability and simplifies patient transfers, making it convenient for transportation to and from the bathroom. It is specifically designed to enhance the quality of life for both users and caregivers by providing practical features that cater to various user needs.
The Swift Mobil-2 Shower Commode chair stands out with its unique seat design. The rear opening of the seat allows caregivers easy access when assisting users with personal care tasks. Additionally, the seat surface features the exclusive "Etac Easy Clean" friction pattern, which strikes the perfect balance between friction and cleanliness, ensuring user comfort and hygiene.
For users who require extra cushioning and support, soft seat cushions are available as an option. These cushions offer enhanced comfort and quick-drying properties. The backrest of the chair is also designed to provide softness and support, contributing to overall user comfort. The curved footrests further enhance the ergonomic design of the Swift Mobil-2, ensuring a comfortable and relaxing experience.
The Swift Mobil-2 is highly adaptable to meet individual user needs. It has a generous maximum user weight capacity of 160 kg and is height adjustable between 45-60 cm. The armrests can be adjusted in height and width by 6 cm in each direction, allowing for personalised comfort. The swing-away footrests are also height adjustable and can be provided in a shorter version when using higher soft seats.
In addition to the standard configuration, the Swift Mobil-2 XL offers a wider back frame option, providing an extra 6 cm between the armrests for larger users. The XL-back frame can also be obtained as an accessory for customisation.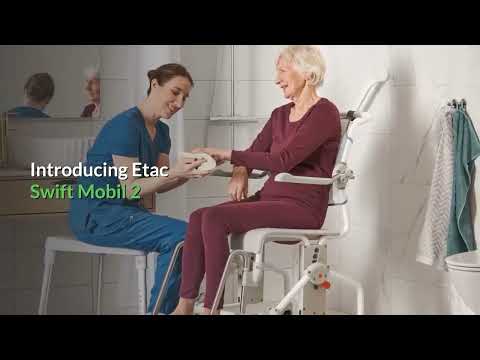 Features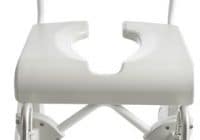 Seat With Rear Opening: Providing ease of access for the carer and comfort for the user. The unique surface, specially developed for Etac, has the perfect balance between friction and cleanliness, non-slip and hygienic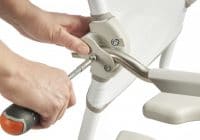 Adjustable Armrests As Standard: Easily adapted to various user needs. Adjustable both in height and width, +/- 6 cm in each direction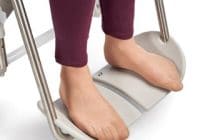 Ergonomic Footrest: Curved footplates provide instep and arch support, ensuring comfort, stability and relaxation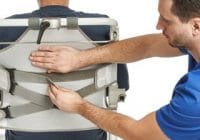 Adjustable Backrest: Easily adjusted for posture, body shape and maximum comfort. Fitted with two fasteners around the push bars. Soft and quick-drying material