Description
The Etac Clean Mobile Shower Commode offers a secure and comfortable solution for users in need of assistance during showering and toileting. Its thoughtfully designed construction minimises corrosion and enhances durability by eliminating holes and welding seams. The absence of these vulnerable areas ensures longevity and maintains the chair's integrity over time. Additionally, the functional push handle enables easy maneuverability, and the four locking castors provide stability when the chair is stationary, ensuring the safety of the user.
The Shower Commode Chair features an open design at the rear, allowing for easy access during personal hygiene tasks. It also incorporates a front recess, further enhancing accessibility and facilitating intimate hygiene. The long arms of the chair are swing away and can be effortlessly removed as needed. Furthermore, a curved footplate is provided, which can be conveniently tucked away when not in use. To personalise the chair, a wide range of compatible accessories is available, allowing users to customise their experience according to their specific needs.
The Etac Clean Mobile Shower Commode is offered in two sizes, 49cm and 55cm, catering to different user preferences and requirements. This ensures a comfortable fit and optimal support for individuals of varying sizes.
With its emphasis on security, comfort, and versatility, the Etac Clean Mobile Shower Commode provides a reliable and adaptable solution for individuals seeking a high-quality shower and toileting aid. For assistance in selecting the right accessories, customers can reach out to our dedicated Customer Service team. Also available as a Self-Propel.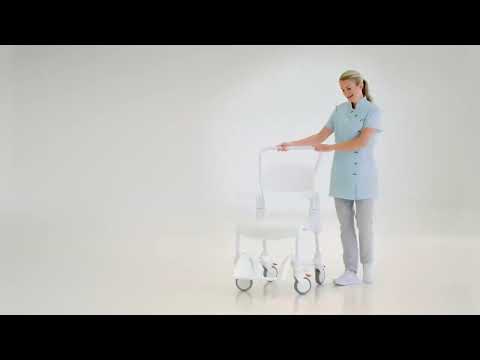 Features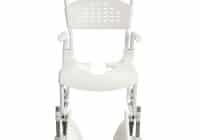 Slim but roomy: The smart design gives Etac Clean a large, comfortable seating area even though the chair is neat and slim.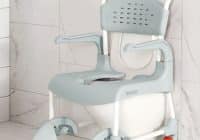 Fits over the toilet: The Chair is a perfect fit due to the upright operating handle, even over wall-mounted toilets.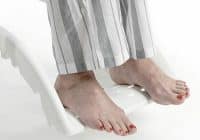 Foot support designed for feet: The practical foot support has a soft, rounded shape which gives the feet extra comfort and protection.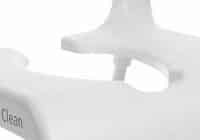 Easy access: The Chair is open at the back to facilitate access for hygiene purposes.