Description
The Molift Mover 300 is a specialised patient lifter designed specifically for bariatric use, with a safe working load of 300kg. Remarkably, it is the lightest bariatric patient hoist available in the market, weighing only 39.3kg. This lightweight construction, combined with its unique geometry and wheel positioning, ensures excellent maneuverability and ease of use.
The Mover 300 is capable of lifting patients from the floor, starting from a height of 40 cm (15.7″) at its lowest position, and it can lift up to a maximum height of 179 cm (70.4″). This wide lifting range provides ample space and height for gait training and other essential activities. As with all Molift patient lifters, the Mover 300 is equipped with environmentally friendly NiMH-batteries, contributing to sustainable and eco-friendly operations.
With its impressive weight capacity, lightweight design, and reliable performance, the Molift Mover 300 is an excellent choice for bariatric patient lifting needs.
Features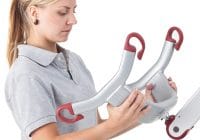 Sling bar quick-release function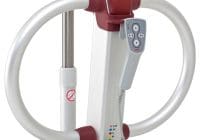 Unique push bar provides natural grip