Description
The Trust Care Let's Go Out Rollator is an elegant, comfortable and steady rollator. It is designed with an X Cross frame for sideways folding; ideal for stowing in small spaces.  This X frame also allows the rollator to stand by itself when folded.  Weighing only 6.1 kg, it is very easy to transport and is lightweight for pushing.
This rollator has large front wheels which make turning easy and the spring system suspension makes moving the rollator comfortable and smooth on all surfaces. The rear wheels are fitted with fenders to protect from dirt.
The ergonomically shaped rubber handles are height adjustable and there is both an effective brake and a parking brake for safer use.  The seat is made from faux leather.
Colour Options: Available in two colour options – black and beige. Please make your selection when ordering online
Features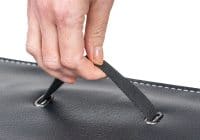 Pull up strap on seat for folding sideways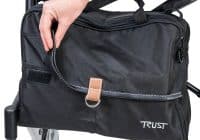 Easy to remove carry bag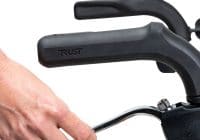 Push down to lock brakes in place