Our Top 10 Picks for the Best Shower Chairs
If you or a loved one lives with mobility issues, you know everyday tasks such as showering can be difficult or even dangerous. The risk of injury due to slipping or falling in the shower or bath increases as we age. In Australia, falls are the most significant contributor to hospitalised injuries, with 224,000 people hospitalised...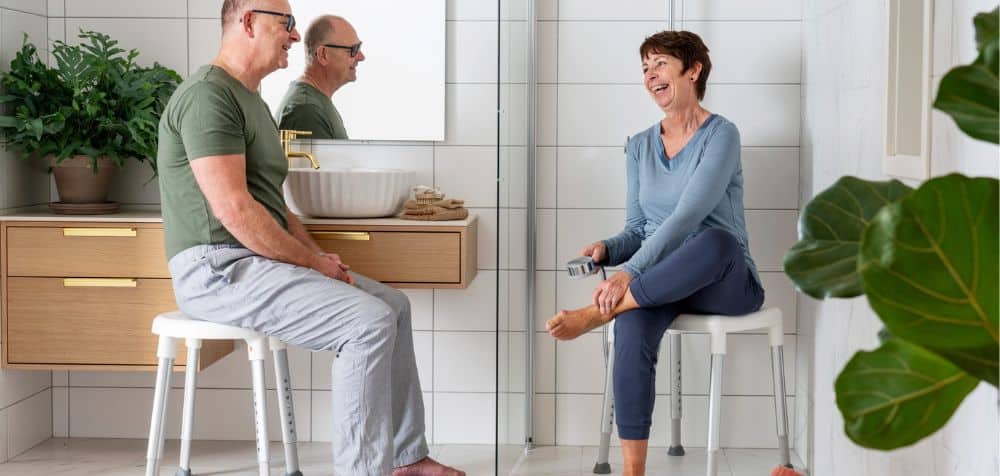 If you or a loved one lives with mobility issues, you know everyday tasks such as showering can be difficult or even dangerous. The risk of injury due to slipping or falling in the shower or bath increases as we age. In Australia, falls are the most significant contributor to hospitalised injuries, with 224,000 people hospitalised in 2019-20 due to falls.
Shower chairs prevent falls by providing a safe and supportive chair to sit upon while bathing. This added stability enables people with mobility issues to safely shower or bathe without the fear of falling, which helps maintain independence. Further, some shower chairs also support individuals to move in and out of the shower safely.
Shower chairs are made with water-resistant and rust-proof materials, such as aluminium and plastic. Although the design of each shower chair varies, most are fitted with non-slip rubber feet. Some shower chairs have wheels to assist those who use a wheelchair or with other mobility difficulties. Shower chairs may come with or without armrests and backrests and may have adjustable legs to accommodate different heights.
Selecting the best shower chair for you or your loved one requires careful consideration of personal requirements and the features of each shower chair. This article reviews the 10 best shower chairs 2022, including key features, comfort ratings, and price.
Patient Handling 10 Best Shower Chairs in 2022
We carefully selected the below recommendations based on shower chairs we trust to stock at Patient Handling. All our shower chairs are sourced from reliable, transparent manufacturers and pass Australian testing standards.
As prices may be subject to change, we've included direct links to each product and a helpful pricing indicator for helpful comparisons:
$ = under $100

$$ = $100 to $200

$$ = over $200
Better Living Aluminium Shower Stool
Price: $$
Brand: BetterLiving
Best for: Lightweight comfort
Featuring a comfortable padded waterproof seat and corrosion-resistant aluminium frame, this seat supports up to 120kg.
The Better Living Aluminium Shower Stool has a chair height that can be adjusted without tools and ranges from 47.5 to 63cm, making it a good choice for tall individuals. However, some may find the seat width of 37cm too narrow if they need or prefer more space.
The legs are angled outwards for increased stability. In addition, two legs can be adjusted to alternate heights to accommodate uneven floor surfaces or ease pressure on hip joints.
The lightweight armrests are height adjustable and make it easier to stand from or lower into the chair safely.
As a bestseller, this is one of the best shower chair for elderly and disabled users with mobility issues.
Better Living Aluminium Shower Chair
Price: $$
Brand: BetterLiving
Best for: Easy cleaning and back support
The Better Living Aluminium Shower Stool  is a rust-proof aluminium chair that weighs 4kg and supports a weight capacity of 110kg.
Featuring armrests and a comfortable backrest, it is suitable for the elderly and those with a disability who may appreciate or need additional postural support.
The seat is made from hygienic and easy-to-clean materials and includes drainage holes for added safety. Many find the supportive backrest and standard width between the fixed armrests of 49.5cm comfortable.
The seat height is easily adjustable between 49-59cm without needing tools.
KCare Premium Aluminium Shower Chair
Price: $$
Brand: R & R Healthcare Equipment
Best for: Back support for larger individuals
The KCare Premium Aluminium Shower Chair powder-coated aluminium tubing forms a strong yet lightweight frame that supports people weighing up to 130kg.
This chair is ideal for those who may need the additional weight capacity and may prefer or require the postural support of the backrest. Further, the straight fixed armrests may assist when standing from or lowering into the chair.
The legs can be adjusted to achieve a seat height ranging from 43 to 58.5 cm, and the feet have a non-slip grip.
KCare Premium Shower Stool – Wide Seat
Price: not listed
Brand: R & R Healthcare Equipment
Best for: Wide seating
The KCare Premium Shower Stool with padded seat is designed with comfort in mind and comes in widths of 45cm, 52cm and 60cm. The wider seat widths coupled with the maximum user weight of 250kg make this chair an excellent choice for those requiring or preferring more space and weight capacity.
The frame is manufactured from heat-treated lightweight aluminium tubing that is strong and rust resistant.
The handles add additional security, while the flat armrests assist with sitting in or standing from the chair.
The legs are easily adjustable, and the seat height ranges from 48 to 64cm.
Etac Edge Shower Stool
Price: $$
Brand: Etac
Best for: Small spaces and angled sitting
The triangular design of the Etac Edge Shower Stool is perfect for smaller showers or bathtubs with limited space. 
The height of each telescopic leg can be adjusted independently between 34.5 to 42cm for increased stability on uneven surfaces.
The lower height of this lightweight and rust-proof aluminium chair makes it an excellent choice for shorter individuals who dislike higher chairs.
Alternatively, the Edge Standard model is also available for taller individuals, with a more extensive height range of 42 to 57cm.
The assembly process doesn't require any tools as the self-locking buttons on the telescopic legs click into place. There are no loose parts in the flatpack to misplace.
The plastic seat is generously sized with a slight contour, softly rounded edges, and drainage holes. The unique design enables multiple seating positions, such as sitting astride the stool or straddled over a corner with one lower leg, where the seat angle can relieve hip tension or discomfort.
The outwardly angled legs increase stability, enabling the chair to support up to 130kgs. The chair itself weighs 2.6kg.
Etac Smart Swivel Shower Stool
Price: $$$
Brand: Etac
Best for: 360 swivelling
This recommendation features the standard Etac Smart Shower Stool with the addition of a swivel pad that enables easy, frictionless turning. The swivel pad is water-resistant, non-slip, and removable for easy cleaning.
The rectangular seat can be used from the wide or narrow edge, allowing multiple seating options. The concave plastic seat has been designed to be comfortable and enables water to drain from the drainage holes quickly.
Using practical self-lock buttons, it's easy to secure the telescopic legs and adjust the seat height from 42 to 57cm. No tools are required to assemble the chair or change the height. The legs are angled outwards and include non-slip rubber feet for enhanced stability.
The chair weighs 2.8kg and supports a total body weight of 150kgs.
This swivel pad and shower stool are ideal for people with mobility issues who would like to easily turn in the shower or bath. Additionally, those requiring a stool with a larger weight capacity may benefit.
Etac Swift Commode
Price: $$$
Brand: Etac
Best for: three-in-one functionality
This chair is ideal for anyone who seeks the three-in-one functionality of a commode, shower chair, and toilet seat raiser. It's an excellent mobility aid for the elderly or those with a disability who need discrete and convenient access to a toilet near the bed.
The Etac Swift Commode is designed to be used in the bedroom and bathroom. The soft and comfortable back support and seat pad can be used in the shower, and the seat can be removed to access the pan.
The large non-slip feet provide grip and support on wet and uneven floors.
The chair arrives flat-packed and is easy to assemble and adjust the height without tools. The seat height can be adjusted between 42 to 57cm and set to a slight frontal tilt to assist with standing.
It supports users weighing up to 160kg.
Peak Corner Shower Stool
Price: $
Brand: Peak Care Mobility Aids
Best for: quality on a budget
The Peak Corner Shower Stool is a perfect alternative to a full-sized shower stool and is suitable for those wanting an affordable yet high-quality option. Additionally, the shower chair weighs just 1.9kg, making it one of the lightest of our recommendations.
Many user reviews highlight the convenience of the stool's compact triangular design, which enables easy positioning within shower corners.
It can support an individual weighing up to 136kg.
The polypropylene seat is easy to clean, moulded for comfort, and includes drainage holes.
The frame is lightweight, rust-resistant aluminium and includes PVC non-slip rubber grips.
It is height adjustable without tools to five different height settings.
Premium Shower Stool with Backrest
Price: not listed
Brand: R & R Healthcare Equipment
Best for: all-around comfort, support, and larger individuals
This is one of the best shower chairs for users who prefer a comfortable padded seat and the postural support of a backrest and armrests. Both the seat and backrest are padded PU for extra comfort, and the front handles provide added security.
The corrosion-resistant aluminium tubing is lightweight and easy to grip when sitting in or standing from the chair.
It is suitable for larger people and can support weights up to 250kg.
The seat is available in three widths, including 45cm, 52cm, and 60cm. The adjustable legs can be lowered to 47cm and raised to 59.5cm.
This is one of the most versatile and best shower chair for disabled and elderly individuals due to the comfortable padded seat and backrests, the stability offered by the armrests, the large weight capacity, and multiple seat width options.  
Peak Swivel Bath Seat
Price: not listed
Brand: Peak Care
Best for: support in the bath
Our last recommendation of bathroom mobility supports differs slightly in that it is designed to be used in the bath rather than in the shower.
The Peak Swivel Bath Seat fits most bathtubs and enables the user to swivel 360° to safely transfer in and out of the bath. The seat locks in safely during transfer and bathing and features non-slip grips.
The contoured backrest and armrests provide support and comfort. This chair is ideal for those who prefer baths to showers or who may have lost confidence in their ability to get in and out of the tub safely.  
The chair is constructed from a stainless steel frame, and the plastic seat is easy to clean and includes drainage holes. It supports a maximum user weight of 100kg.
How to use a shower chair
Using your shower chair is straightforward and similar to using any other chair. However, there are a few key tips to safely using your shower or bath chair:
Correctly position your chair, so all the legs are stable and set to the desired height. An 

anti-slip map

 may add more protection. Ensure the seat is within reach of the taps, water flow, and personal hygiene items needed for showering.

To sit, move backwards until you can feel the edge of the seat behind you. Place your hands on the armrests, if applicable, to help lower your body onto the centre of the chair.

To stand up, position yourself at the front of the seat. With feet firmly placed, use the armrests, if applicable, to push yourself into a standing position.
Where to buy a shower chair
Shower chairs are readily available online and in select storefronts. However, due to the wide range of features and benefits specific to each design, many people find it helpful to discuss options with their doctor or speak to an expert, such as Patient Handling.
Buying from a reputable seller ensures a quality product and is important for National Disability Insurance Scheme (NDIS) funding purposes. Patient Handling is a registered NDIS provider, and our vast range of shower chairs is covered by NDIS funding under the scheme's Assistive Technology category. This means NDIS participants are generally eligible to receive full NDIS funding for bathroom mobility chairs.
The request for a shower mobility aid will form part of your broader NDIS support plan. Further information on NDIS eligibility and conditions can be viewed here.
How to clean a shower chair
Depending on the type of chair, there may be removable cushions, padding, or swivel plates. The cushions may be placed on a gentle cycle in the washing machine or hand washed.
Clean the shower stool or chair using a cloth and non-abrasive disinfectant or mild detergent with warm water. Avoid using lime scale removers, or strong, abrasive cleaners, which may damage the chair's surface.
Further, do not use very hot or boiling water to clean the seat cover, backrests, or armrests, as this will permanently damage plastic and other surfaces.
Rinsing and storing your shower chair in a dry place after every use will reduce limescale build-up and enhance the longevity of your chair.
How to choose a shower chair
When considering what is the best shower chair for elderly or disabled people, it's essential to think of the user's height, weight, and mobility level.
It's also crucial to consider the features of each chair and how it will be used to determine the best shower chair 2022 for you.
How do you plan to use the shower chair?
Although it may initially seem obvious, this question extends beyond the simple answer of "in the shower." As shower chair designs differ drastically, chair weight and portability may influence whether it remains in one place or is easily transported to other locations.  
Further, you should determine if one person will use the chair or if significant height and weight variability are required for multiple users.
How much space do you have?
One of the many benefits of shower chairs is that they help facilitate independence without needing to modify the bathroom. However, the shower chair must still be chosen with the available space in mind. If you have a small shower, purchasing a smaller chair or triangular stool may be beneficial.
Shower chair features
As discussed in the above section, various features are aimed at different user needs. To purchase the best shower chair for elderly or disabled users, consider the following:
Maximum user weight capacity

Adjustable height levels

Minimum and maximum heights

Chair dimensions, weight, and portability

Ergonomic features, including backrests, arm supports and handles

Padding options for added comfort

Ease of cleaning

Preferences for construction materials, including plastic or eco-friendly alternatives

Additional features, like swivel plates or Commode pans
Evaluating the above features will help you find a shower chair optimally suited to your height, weight, mobility needs, and comfort levels.
The last drop
Shower chairs provide support and stability to those living with mobility issues. Selecting the right shower chair can drastically reduce the chance of elderly or disabled people falling in the bathroom and helps these individuals regain confidence and independence.
You should consider your individual needs and circumstances when choosing a shower chair. In addition to online resources, you can consult your doctor or contact company representatives or stockists to discuss your options.
The friendly team at Patient Handling are also well versed in shower chair features and benefits and can provide expert recommendations tailored to your needs to help you choose the best shower chair for you.
Preferred Suppliers for the Healthcare Industry Since 2003
Patient Handling is founded on a sound base of great staff, great products and great partners. We strive to put our clients needs above all else and focus on well thought out solutions for complex needs.




Contact Us
We are an online store only. Please contact us if you would like a product specialist to assist with your purchase.