Top Accessible Beaches in Australia for Wheelchair Users
A trip to the beach is the epitome of summer for many Australians. Across the country, several councils continue to add wheelchair beach access and safety features to enable the entire community to enjoy fun in the sun. To help you and your loved ones make the most of our Aussie beaches, we've compiled a...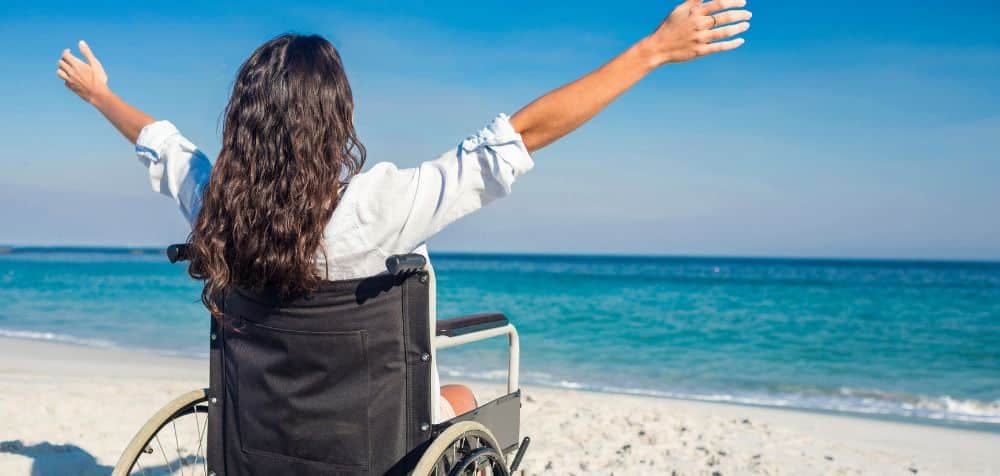 A trip to the beach is the epitome of summer for many Australians. Across the country, several councils continue to add wheelchair beach access and safety features to enable the entire community to enjoy fun in the sun. To help you and your loved ones make the most of our Aussie beaches, we've compiled a list of the best wheelchair accessible beaches in Australia.
Wheelchair accessible features to look for when planning your next beach day
To encourage those with mobility issues to enjoy the beach, wheelchair accessible beaches include various accessible facilities, infrastructure, and transport options. Patient Handling has compiled key features to consider when deciding which accessible beaches to visit.
Wide walkways and beach access ramps
Wheelchair and walking frame/ stick users can enjoy the views from the many beach esplanades framing our coastline. Many use folding wheelchairs for beach visits as they are lightweight and easy to transport. See our article for guidance on selecting the best folding wheelchair. Wheelchair accessible beaches include wide walkways with ramps angled at a safe slope.
Accessible bathrooms
Wheelchair accessible beaches feature nearby facilities with accessible toilets, changing rooms, and often accessible showers. To be accessible, bathrooms and changerooms must have user-friendly entry points, including ramps and wider doorways. Changerooms may also feature hoists for wheelchair transfers and adult-sized change tables.
Mobility parking
Wheelchair parking spaces in Australia are governed by the Australian Disability Parking Scheme. Accessible parking spaces near beaches and parks are reserved for permit holders. Mobility parking spaces are larger than regular spaces, enabling users to enter and exit their vehicles safely.
Beach access matting
Wheelchair accessible beaches feature various types of permanent and roll-out beach matting. Access mats provide a stable and slip-resistant path for users of wheelchairs, other mobility aids, and prams. Roll-out beach access mats are generally available on a seasonal basis from some Surf Life Saving Clubs. In contrast, some local councils have installed permanent beach access mats and ramps to enable year-round access.
Beach wheelchairs
Beach wheelchairs feature large wheels to traverse the sand. Councils and Surf Life Saving Clubs across Australia are increasingly making beach wheelchairs available for hire, often at no cost. Beach wheelchairs may be designed for adults or children and can enable the following:
access to waist-high water (floatation beach wheelchair)
access across the sand and through shallow water
Some wheelchair accessible beaches, such as St Kilda, provide a hoist to help transfer users into the beach wheelchair. However, you are generally required to bring your own sling.
Accessible public transport
Accessible public transport enables users with disabilities and mobility issues to travel safely. However, some wheelchair accessible beaches may not be within a convenient distance of trains, buses, or trams. As public transport varies for each accessible beach, consider the available transport options.
Disabled beach access in each Australian state
With almost 12,000 beaches stretching across Australia's 60,000km coastline, it can be challenging to know which ones offer disabled beach access. To help narrow down your options, Patient Handling has summarised numerous options for wheelchair accessible beaches in each state.
New South Wales
Waverley Council has been improving inclusivity at world-famous Bondi Beach for wheelchair access and other mobility aids. Beach matting is located at the Campbell Parade entrance and the beach access ramp at the north end of the beach. In addition to beach wheelchair access mats, Bondi Beach features:
Beach wheelchairs for hire
Accessible toilets and showers
Storage lockers
Mobility parking bays
Sydney's Malabar Beach features calm and sheltered waters and the Malabar Ocean Pool, which allows wheelchair and mobility aid users to dip their toes in the water. The 60-metre beach wheelchair access mats are installed all year round and enable people with mobility issues to reach the waterfront. Malabar Beach is a popular choice for tourists and locals with its accessibility features, including:
Permanent beach matting
Wheelchair accessible ocean pool
Accessible toilet and shower facilities
Beach wheelchairs for hire
Mobility parking bays
Other popular wheelchair accessible beaches in New South Wales include:
Avoca Beach
Fingal Bay
South Cronulla
Lighthouse Beach, Ballina
Toowoon Bay Beach
Victoria
Victoria is a popular choice for beach access wheelchair users, with two beaches featuring permanent beach wheelchair access mats:
Williamstown Beach
Altona Beach
Located within Hobsons Bay, both beaches include year-round beach matting and free hire of beach wheelchairs and walking frames during Surf Life Saving Club patrol hours. Further, an accessible changing room with an adult-sized change table and hoist are located across the road from Altona Beach at Weaver Reserve. To book beach wheelchairs or walking frames at Williamstown or Altona Beach, visit the Hobsons Bay council website.
Close to public transport, iconic St Kilda Beach features beach matting during summer and weekend hire of beach wheelchairs. The change room facilities include large, accessible toilets, an adult-sized changing bench, and a tracking hoist system.
Other popular accessible beaches in Victoria with beach wheelchairs and matting include:
Port Melbourne Beach
Hampton Beach
Mordialloc Beach
Mt Martha Beach
Half Moon Bay
Carrum Beach
Lorne Beach
South Australia
Wheelchair beach mats are rolled out at Henley Beach in Adelaide between October and March/ April from Thursday to Sunday, dependent on tidal and weather conditions. Visitors can enjoy a full day of fun in the sun with numerous mobility parking bays and seaside cafes.
Seacliff Beach was the first South Australian beach to roll out beach wheelchair access mats. The beach mats are placed each weekend and public holiday between 1pm and 5pm and can be accessed from the adjoining disabled beach access ramp at the front of the Seacliff Pub. Ocean and beach wheelchairs can be pre-booked via the Seacliff Surf Life Saving Club website.
Wheelchair users can also enjoy free Mobi-Chair beach wheelchair hire at Normanville Beach. Located along the Fleurieu Peninsula, Normanville Beach also features a permanent slat-type wheelchair access platform to the water's edge.
Additional information is available on the South Australian Government website, including accessibility features for the below beaches:
Glenelg, Adelaide
Largs Bay, Adelaide
Semaphore Beach, Adelaide
Semaphore South Beach, Adelaide
Wallaroo Holiday Park
Whyalla Foreshore, Port Augusta
Queensland
Affectionately known as the sunshine state, the list of Queensland beaches with wheelchair access continues to grow. Through partnerships with surf life saving clubs and community organisations, the Gold Coast provides free beach wheelchairs and matting at several popular beaches, including:
Broadbeach
Burleigh Heads and North Burleigh
Ian Dipple Lagoon, Labrador
Mermaid Beach
Nobby's Beach
Broadwater Parklands swimming lagoon, Southport
Surfers Paradise
Tallebudgera Creek
To find out more about the availability of free beach wheelchairs and beach access ramp matting, visit the Gold Coast council website. This website also lists the amenities, such as accessible showers and toilets, including dual transfer toilets.
The Moreton Bay Region features bike and wheelchair access along the scenic coastline paths at Sutton's Beach, Redcliffe. Further, permanent beach matting was installed in 2020 to help achieve Redcliffe Mayor Peter Flannery's goal for Moreton Bay to become South East Queensland's most accessible tourism region. Woorim Beach at Bribie Island also offers disabled beach access via beach matting and free beach wheelchair hire.
Further north, the Sunshine Coast's accessible beach program offers three unique options for wheelchair beach access, including:
Alexandra Headland
Coolum Beach
Mooloolaba
At the above locations, beach wheelchairs and beach access ramp matting are available during patrolled hours (i.e. 7am to 5pm). Other Sunshine Coast locations that support disabled beach access include tourist hot spot Noosa, with its extensive boardwalks and permanent beach matting.
For those planning a trip to North Queensland, many esplanades and beaches have wheelchair access. For example, The Strand stretches 2.5 kilometres along Townsville's foreshore and features permanent beach access ramps to the shoreline and beach matting available on Fridays and Saturdays. Iconic Palm Cove in Cairns and Four Mile Beach in Port Douglas also provide complimentary beach wheelchairs and roll-out matting.
Tasmania
Beach access wheelchairs are available across numerous Tasmanian beaches, including Hobart, Mornington, and the North Coasts. Beach wheelchairs are also available from the Surf Life Saving Clubs at the following locations:
Ulverstone
Bicheno
Port Sorell
Kingston Beach
Bridport
Somerset
Burnie
Devenport
Beach wheelchairs are free to hire and can be booked online via Surf Life Saving Tasmania.
New permanent access ramps lead to the water's edge at both Park Beach and Carlton Beach. Visitors may also enjoy the 1.6km wheelchair accessible coastal track at the Sandy Bay Foreshore near Long Beach.
Northern Territory
Although beach access remains limited, Mindil Beach in Darwin runs the crowd-pleasing Mindil Beach Sunset Market every Thursday and Sunday evening from May to October.
Western Australia
Western Australia is increasingly adding accessibility features to its many pristine beaches. In tourist hot-spot Perth, beach wheelchairs are available for hire, or seasonal mats are installed at numerous wheelchair accessible beaches, including:
Mullaloo Beach
Quinns Beach
Hillarys Boat Harbour
Trigg Beach (access matting is currently on a trial basis)
Yanchep Beach
City Beach
Port Coogee Marina
Coogee Beach
Ngarkal Beach
Cottesloe Beach
Rockingham Beaches (matting is available seasonally at several beaches)
South Perth Foreshore
Mandurah
Busselton
Dunsborough
Margaret River
Albany
Exmouth
Venturing northwest of Perth, wheelchair users and those with mobility issues can also utilise accessible beach matting at Geraldton Beach. Alternatively, some of the wheelchair accessible beaches south of Perth with access matting include Madora Bay Beach, Town Beach, Avalon Beach, and Keith Holmes Reserve.
Summary
Whether you're planning a day trip or vacation by the beach, there is an ever-increasing number of accessible beaches to choose from. In addition to beach wheelchairs for hire, certain electric wheelchairs may be more suitable for esplanade pathways. For help selecting an electric wheelchair for beach and general use, see our article on the five most important things to consider when buying an electric wheelchair. Conversely, some users prefer lightweight and portable folding wheelchairs, as discussed in our buying guide for folding wheelchairs.
As accessibility features and beach wheelchair hiring conditions vary for each accessible beach, we recommend contacting the local council or Surf Life Saving Club in advance to confirm availability.
If you have questions about wheelchair or mobility aids to meet your needs, contact the friendly team at Patient Handling for expert recommendations and helpful accessibility tips.
Preferred Suppliers for the Healthcare Industry Since 2003
Patient Handling is founded on a sound base of great staff, great products and great partners. We strive to put our clients needs above all else and focus on well thought out solutions for complex needs.




Contact Us
We are an online store only. Please contact us if you would like a product specialist to assist with your purchase.