Description
The Jazzy 1450 power chair is specially designed to meet the needs of individuals requiring bariatric support. With a remarkable weight capacity of 272.1 kg, this power chair is built for durability and reliability. Its front-wheel drive and large front drive wheels provide exceptional performance and stability. The front drive wheels offer enhanced absorption over obstacles, ensuring a smoother ride. Equipped with excellent climbing capabilities and front anti-tips, the Jazzy 1450 effortlessly tackles various terrains and transitions over grade changes with ease.
The Jazzy 1450 features a depth-adjustable, fold-flat, limited-recline high-back seat, offering customisable comfort and support. The seat design accommodates various body types and allows users to find their optimal seating position, whether for short trips or extended use. Convenience and peace of mind are prioritised with the flat-free drive tires, eliminating the concern of punctures and providing a hassle-free ride.
The universal, fixed, in-line joystick mount ensures easy and intuitive control, enabling users to navigate their surroundings effortlessly. The power chair boasts a spacious 43.1 x 33 cm foot platform, offering ample space for comfortable foot placement. This generous platform enhances stability and ensures a secure and ergonomic seating position.
With a maximum speed of 7.24 km/h and a turning radius of 67.31 cm, the Jazzy 1450 combines versatility and maneuverability. Users can confidently navigate tight spaces and intricate paths with ease. The power chair's motor package delivers exceptional performance and efficiency, ensuring a reliable and powerful driving experience. Users can enjoy the freedom to travel up to 25.2 km on a single charge.
Available in two colours: Candy Apple Red, Viper Blue
Features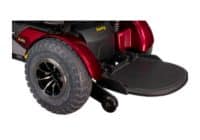 Flat-free drive tyres
Large foot platform