Description
The Molift Mover 205 is a reliable and versatile patient lifter designed for constant and everyday use. It is suitable for various lifting and transfer situations in nursing homes, institutions, and hospitals. Despite its sturdy construction, the Mover 205 has a low total weight of 39.3 kg (89.5 lbs), ensuring easy maneuverability even when handling patients at its maximum safe working load of 205 kg.
With an excellent lifting range of 37 – 179 cm (14.5″ – 70.4″), the Mover 205 accommodates a wide range of lifting needs. It can be equipped with a 2-point or 4-point sling bar, which works seamlessly with the Molift RgoSling range to provide a comfortable and spacious position for the user. The patient lifter also features a unique quick-release function that allows for easy fitting of other suspensions without the need for tools. Additionally, the Mover 205 is equipped with environmentally friendly NiMH-batteries, contributing to sustainable operations.
To experience the capabilities of the Molift Mover 205 firsthand, please contact us at 1300 734 862 to arrange a demonstration.
Features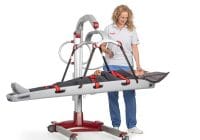 Hoisting with a stretcher is easy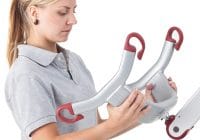 Sling bar quick-release function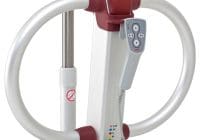 Unique push bar provides natural grip