Description
Awarded for Design Excellence in Europe, the Molift Smart 150 is a foldable, lightweight, portable patient lifter designed to be easily wheeled and transported. As it is a travel hoist, it is ideally suited for use in home care, for travelling, transporting in a car or to be easily stored. When folded, the Molift Smart portable hoist is compact enough to fit into a Toyota Yaris
With a lifting range of 27 – 168 cm (10.6″ – 66.1″) the Smart 150 provides an excellent maximum lifting height and at the same time gets low enough to facilitate lifting from the floor.
The 4-point sling bar is standard and guarantees the patient hoist gives a comfortable lifting position for the user with ample space around the head area thereby eliminating any risk of the head bumping into the sling bar or the user swinging side to side.
With the combination of sling and sling bar, the user will slide into a natural, correct seating position, from lying to sitting and vice versa.
The Smart 150 has a unique design with an excellent centre of balance and together with the small footprint makes it easy to manoeuvre even in tight spaces.
The unit includes a Molift Battery and Molift Battery Charger.
Available also is the Molift Smart Soft Travel Case.  It is ideal for use when travelling, transporting or storing the Smart 150.  For airplane travel and other situations when bulk stowage is required, the Molift Smart Hard Travel Case is a suitable option.  Both cases are sold separately.
For further technical information please select to download the brochure below.  Please contact us to arrange a demonstration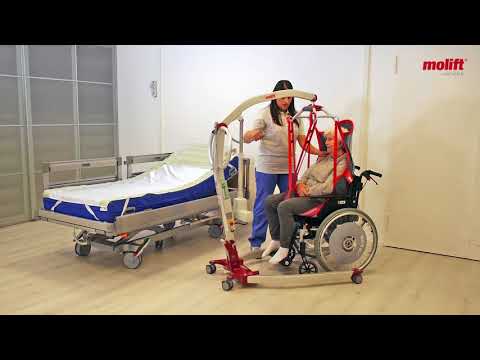 Due to the complex nature of this product, we have trained professionals who can provide assistance to ensure this equipment supports your needs.
Please get in touch with us and we will put you in direct contact with a product specialist in your area.